SantaCon wordwide event calendar
Organizers please feel free to contact Santa with your dates for this year (same e-mail address as last year).
Below are the events that Santa already knows about.
| | |
| --- | --- |
| | Asheville, NC Saturday, December 6th |
| | Boston, MA Saturday, December 6th |
| | Capitola, CA Saturday, December 13th |
| | Long Beach, CA Saturday, December 20th |
| | Milwaukee, WI Saturday, December 13th |
| | New Hope, PA Monday, December 15th |
| | Newport, RI Saturday, December 6th |
| | Shenzhen Saturday, December 20th |
| | Tokyo Saturday, December 13th |
Anyone can organize a SantaCon. No-one "owns" it so you don't need our or anyone else's permission and you can have more than one SantaCon in a town or city (although it's obviously better if all santas work together).
If you are a new organizer this year, helpful information including Santa's e-mail address will be published here soon.
Welcome to SantaCon.info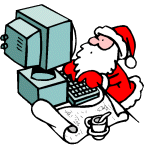 Welcome to SantaCon.info where we [try to] maintain a complete list of every SantaCon event around the world.
We currently have pages for no less than 322 cities in 44 countries!
Websanta is working to bring you a new website this year. It'll look similar to last year's site (because websanta isn't very good at graphic design), but underneath it will be much better.
Update September 2nd: As of right now, the published version of the site is quite rudimentary except that you should find that it adapts to smaller/mobile devices nicely. Websanta will be adding to the site daily and publishing updates every few days from now on.
As soon as the interactive features of the site go live, everyone in Santa's database will receive an e-mail. Until then, please check back weekly.
These are the locations that have previously had a SantaCon (last 5 years)...
Aarhus
(Denmark),
Adelaide
(Australia),
Albany
(NY, United States),
Albuquerque
(NM, United States),
Anchorage
(AK, United States),
Ankara
(Turkey),
Ann Arbor
(MI, United States),
Annapolis
(MD, United States),
Appleton
(WI, United States),
Arcata
(CA, United States),
Asbury Park
(NJ, United States),
Aspen
(CO, United States),
Athens
(GA, United States),
Atlanta
(GA, United States),
Auckland
(New Zealand),
Augusta
(GA, United States),
Austin
(TX, United States),
Baltimore
(MD, United States),
Bangor
(ME, United States),
Beijing
(China),
Belfast
(Ireland),
Bellingham
(WA, United States),
Bend
(OR, United States),
Benicia
(CA, United States),
Berlin
(Germany),
Bethlehem
(PA, United States),
Birmingham
(AL, United States),
Black Rock
(CT, United States),
Bogotá
(Colombia),
Boise
(ID, United States),
Boulder
(CO, United States),
Branson
(MO, United States),
Brisbane
(Australia),
Bristol
(),
Brooklyn
(NY, United States),
Brussels
(Belgium),
Bucharest
(Romania),
Buffalo
(NY, United States),
Burlington
(VT, United States),
Busan
(Korea, Republic of),
Calgary
(AB, Canada),
Capetown
(South Africa),
Carrboro
(NC, United States),
Chapel Hill
(NC, United States),
Charleston
(SC, United States),
Charlotte
(NC, United States),
Charlottesville
(VA, United States),
Charlottetown
(PE, Canada),
Cheyenne
(WY, United States),
Chia
(Colombia),
Chicago
(IL, United States),
Cincinnati
(OH, United States),
Clemson
(SC, United States),
Cleveland
(OH, United States),
Cocoa Beach
(FL, United States),
Colorada Springs
(CO, United States),
Columbia
(MO, United States),
Columbia
(SC, United States),
Columbus
(OH, United States),
Concord
(NH, United States),
Copenhagen
(Denmark),
Corvallis
(OR, United States),
Costa Rica
(Costa Rica),
Da Nang
(Viet Nam),
Daegu
(Korea, Republic of),
Dallas
(TX, United States),
Davis
(CA, United States),
Dayton
(OH, United States),
Delray Beach
(FL, United States),
Denver
(CO, United States),
Detroit
(MI, United States),
Dubai
(United Arab Emirates),
Dobbs Ferry
(NY, United States),
Dublin
(Ireland),
Dubuque
(IA, United States),
Durham
(NC, United States),
Düsseldorf
(Germany),
Eagle Rock
(CA, United States),
Edinburgh
(),
Edmonton
(AB, Canada),
Eugene
(OR, United States),
Eureka
(CA, United States),
Fairbanks
(AK, United States),
Fargo
(ND, United States),
Fayetteville
(AR, United States),
Fayetteville
(NC, United States),
Felton
(CA, United States),
Ferndale
(MI, United States),
Flagstaff
(AZ, United States),
Fort Lauderdale
(FL, United States),
Fort Collins
(CO, United States),
Fort Wayne
(IN, United States),
Fort Worth
(TX, United States),
Fresno
(CA, United States),
Geneva
(Switzerland),
Genoa
(Italy),
Glenwood Springs
(CO, United States),
Granbury
(TX, United States),
Greensboro
(NC, United States),
Greenwich
(CT, United States),
Guangzhou
(China),
Halifax
(NS, Canada),
Hamburg
(Germany),
Hamilton
(ON, Canada),
Harrisburg
(PA, United States),
Hartford
(CT, United States),
Hayward
(CA, United States),
Healdsburg
(CA, United States),
Helena
(MT, United States),
Hermosa Beach
(CA, United States),
Ho Chi Minh City
(Viet Nam),
Hoboken
(NJ, United States),
Hong Kong
(Hong Kong),
Honolulu
(HI, United States),
Houston
(TX, United States),
Hunter
(NY, United States),
Huntington Beach
(CA, United States),
Indianapolis
(IN, United States),
Ipswich
(MA, United States),
Jacksonville
(FL, United States),
Johannesburg
(South Africa),
Jöhlingen
(Germany),
Joplin
(MO, United States),
Jupiter
(FL, United States),
Kalamazoo
(MI, United States),
Kansas City
(MO, United States),
Kathmandu
(Nepal),
Ketchum
(ID, United States),
Key West
(FL, United States),
Knoxville
(TN, United States),
Kona
(HI, United States),
La Crosse
(WI, United States),
Lakeland
(FL, United States),
Lafayette
(LA, United States),
Laramie
(WY, United States),
Las Vegas
(NV, United States),
Lawrence
(KS, United States),
Leicester
(),
Lethbridge
(AB, Canada),
Lewiston
(NY, United States),
Lexington
(KY, United States),
Little Rock
(AR, United States),
London
(),
Long Island
(NY, United States),
Los Angeles
(CA, United States),
Louisville
(KY, United States),
Luxembourg
(Luxembourg),
Macomb
(IL, United States),
Madison
(WI, United States),
Madrid
(Spain),
Manama
(Bahrain),
Manasquan
(NJ, United States),
Manchester
(NH, United States),
Manhattan
(KS, United States),
Marburg
(Germany),
Maui
(HI, United States),
McKinney
(TX, United States),
McMurdo Station
(AQ, Antarctica),
Melbourne
(Australia),
Memphis
(TN, United States),
Mexico City
(Mexico),
Miami
(FL, United States),
Miami Beach
(FL, United States),
Michigan City
(IN, United States),
Middletown
(CT, United States),
Missoula
(MT, United States),
Mobile
(AL, United States),
Modesto
(CA, United States),
Moncton
(NB, Canada),
Monroe
(MI, United States),
Monterey
(CA, United States),
Montreal
(QC, Canada),
Morristown
(NJ, United States),
Mumbai
(India),
Munich
(Germany),
Napoli
(Italy),
Naples
(FL, United States),
Nashville
(TN, United States),
New Brunswick
(NJ, United States),
New Haven
(CT, United States),
New London
(CT, United States),
New Orleans
(LA, United States),
New York
(NY, United States),
Newport Beach
(CA, United States),
Niagara Falls
(ON, Canada),
Nijmegen
(Netherlands),
Norfolk
(VA, United States),
Norman
(OK, United States),
Norwich
(CT, United States),
Nyack
(NY, United States),
Ocean City
(MD, United States),
Okinawa
(Japan),
Oklahoma City
(OK, United States),
Olympia
(WA, United States),
Omaha
(NE, United States),
Orlando
(FL, United States),
Oslo
(Norway),
Ottawa
(ON, Canada),
Oxford
(),
Oxford
(MS, United States),
Palmer
(AK, United States),
Paris
(France),
Panama City Beach
(FL, United States),
Pasadena
(CA, United States),
Peekskill
(NY, United States),
Penzance
(),
Perth
(Australia),
Philadelphia
(PA, United States),
Phoenix
(AZ, United States),
Pittsburgh
(PA, United States),
Placerville
(CA, United States),
Portland
(ME, United States),
Portland
(OR, United States),
Portsmouth
(NH, United States),
Poughkeepsie
(NY, United States),
Prague
(Czech Republic),
Prescott
(AZ, United States),
Providence
(RI, United States),
Puerto Rico
(Puerto Rico),
Raleigh
(NC, United States),
Red Bank
(NJ, United States),
Redding
(CA, United States),
Reno
(NV, United States),
Rehoboth Dewey
(DE, United States),
Reykjavik
(Iceland),
Richmond
(VA, United States),
Roanoke
(VA, United States),
Rochester
(NY, United States),
Rome
(Italy),
Royal Oak
(MI, United States),
Sacramento
(CA, United States),
Saugatuck Douglas
(MI, United States),
Saint Petersburg
(FL, United States),
Saint Thomas
(Virgin Islands, U.S.),
Salem
(OR, United States),
Salida
(CO, United States),
Salta
(Argentina),
Salt Lake City
(UT, United States),
San Antonio
(TX, United States),
San Diego
(CA, United States),
San Francisco
(CA, United States),
San Jose
(CA, United States),
San Luis Obispo
(CA, United States),
San Rafael
(CA, United States),
Sandusky
(OH, United States),
Santa Barbara
(CA, United States),
Santa Cruz
(CA, United States),
Santa Fe
(NM, United States),
Santa Rosa
(CA, United States),
Sarasota
(FL, United States),
Saratoga Springs
(NY, United States),
Savannah
(GA, United States),
Seaside Heights
(NJ, United States),
Scranton
(PA, United States),
Seattle
(WA, United States),
Seoul
(Korea, Republic of),
Shanghai
(China),
Shirlington
(VA, United States),
Shreveport
(LA, United States),
Singapore
(Singapore),
Sioux Falls
(SD, United States),
Skowhegan
(ME, United States),
South Hadley
(MA, United States),
Spokane
(WA, United States),
Springfield
(MO, United States),
Stamford
(CT, United States),
State College
(PA, United States),
Steamboat Springs
(CO, United States),
Stillwater
(OK, United States),
Stockholm
(Sweden),
Streatham
(),
St Louis
(MO, United States),
St Paul
(MN, United States),
Sudbury
(ON, Canada),
Summit County
(CO, United States),
Surfside Beach
(TX, United States),
Sydney
(Australia),
Syracuse
(NY, United States),
Tacoma
(WA, United States),
Tallahassee
(FL, United States),
Tampa
(FL, United States),
Tel Aviv
(Israel),
Tarrytown Sleepy Hollow
(NY, United States),
Tallinn
(Estonia),
Temecula
(CA, United States),
Toronto
(ON, Canada),
Trinidad and Tobago
(Trinidad and Tobago),
Tucson
(AZ, United States),
Tulsa
(OK, United States),
Tuscaloosa
(AL, United States),
Uganda
(Uganda),
Umeå
(Sweden),
Utica
(NY, United States),
Vail
(CO, United States),
Vancouver
(BC, Canada),
Vancouver
(WA, United States),
Ventura
(CA, United States),
Victoria
(BC, Canada),
Vienna
(Austria),
Virginia Beach
(VA, United States),
Washington
(DC, United States),
Waterbury
(CT, United States),
Wenatchee
(WA, United States),
West Palm Beach
(FL, United States),
Westerly
(RI, United States),
Wichita
(KS, United States),
Wilmington
(NC, United States),
Winnipeg
(MB, Canada),
Winston Salem
(NC, United States),
Yakima
(WA, United States),
Youngstown
(OH, United States),
Yountville
(CA, United States),
Zürich
(Switzerland)