Welcome to SantaCon.info where we maintain the most complete list of SantaCon events around the world.
We currently have pages for no less than 383 cities in 52 countries and some cities have more than one SantaCon!
SantaCon.info is the established authority site (since 2008) and is the work of one Santa - Websanta - who takes personal responsibility and pride in doing the best he can to enable you/Santa to find (or create) and enjoy a SantaCon near you.
It is a free service: SantaCons are listed here free of charge and SantaCon.info does not accept money from organizers or participants, not even donations. If you want to give, please do so at the local level.
SantaCon is featured in Bad Santa 2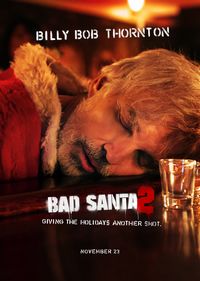 Bad Santa 2 brings back Willie Soke as the worst Santa ever. It is NOT a family-friendly movie and a refreshing change from the usual Holiday pulp.
Whereas SantaCon has grown into something wonderful involving thousands of people, this is the story of a Santa & cohorts who went in the opposite direction.
Websanta's local cinema provides alcoholic refreshments which may also have helped him enjoy this film more. Recommended: Go see it with fellow santas, support your local cinema as fully as possible.
Key SantaCon moments are at :38 Mama is checking the website, :45 SantaCon street sign, 1:10 Thurman says SantaCon, 1:20 SantaCon seems to be an amazing dance party.

WATCH OUT, WATCH OUT - SCAM ALERT
This year, more than ever, Santa has heard of various websites making false claims and trying to sell tickets. Please be careful not to get scammed. Use this guide:
Most SantaCons are completely

F·R·E·E

to attend
Many SantaCons

request

a donation which is completely optional (San Francisco is one of these)
Some SantaCons

request

a donation which gets you some benefits (NYC is one of these)
A few SantaCons are ticketed events, mainly because the organizers have excess costs that need to be covered
There are a lot of Santa themed events that are commercial
There are a lot of scams out there
SantaCon worldwide event calendar
If you know about a SantaCon that isn't listed here, especially if you are the organizer, please Contact Santa with a link to the event details.
New organizers, please see the About page before contacting Santa.
Below are the upcoming events that Santa knows about sorted in date order (and secondly in alphabetical order).
| | |
| --- | --- |
| | Fredericksburg, VA Friday, December 1st |
| | Chicago, IL Saturday, December 2nd |
| | Hayward, CA Saturday, December 2nd |
| | Atlanta, GA Sunday, December 3rd |
| | Manchester, NH Saturday, December 9th |
| | New York, NY Saturday, December 9th |
| | Newport Beach, CA Saturday, December 9th |
| | St Louis, MO Saturday, December 9th |
| | Wichita, KS Saturday, December 9th |
| | Harrisburg, PA Saturday, December 16th |
| | Portland, OR Saturday, December 16th |
| | Temecula, CA Saturday, December 16th |
| | Jacksonville, FL Sunday, December 17th |
Note about the calendar: The links in the SantaCon wordwide event calendar are set to expire if the event has already passed. This is based on the system time of our server which is set to US eastern time which means it could be as late as 7am the following day (e.g. in Fiji) or as early as 7pm on the day (e.g. in Hawaii).
For a complete list of SantaCon locations, please see the
Locations
page.